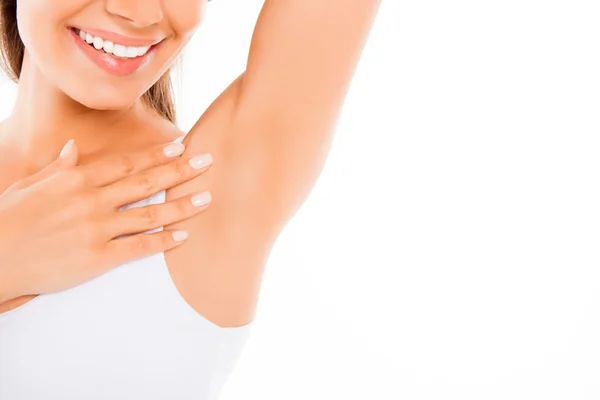 Ingrown hair and dark underarm skin is a big problem for most women. Having smooth and flawless underarms does not need expensive treatments or products. If you are experiencing any irritating underarms problems or want smoother pits, read on. Here are some great tips to have smooth underarms that are brightest and fresh-smelling:
Hydrate Your Skin
The skin of your underarm is more sensitive than the rest of your skin. Ensure to keep it properly hydrated to avoid dark spots. Always oil or moisturize it after a bath. Applying coconut oil overnight is also a good idea to keep your underarm healthy.
Exfoliate to Remove Ingrown Hair
Whether you use an underarm hair removal cream or shave, ingrown hair can be quite annoying, mainly in your underarm area. Using a body scrub to exfoliate can be the best method to banish ingrown hair. Use a soothing moisturizer after exfoliating.
Oil Massage
Since your underarms skin is more sensitive as compared to the rest of the skin, you should ensure to keep it well-moisturized always. Massage your underarm skin using almond or coconut oil to increase skin elasticity. Doing this regularly will make your underarm skin firmer and remove roughness as well.
Don't Use Perfumes
It is recommended not to spray deodorants or perfumes on your underarms directly after waxing or shaving. This can lead to unhealthier skin in your underarm since these products generally contain alcohol. It is better to spray them on your clothes to avoid any collateral damages and create the effect.
Use An Antiperspirant + Brightening Deodorant Every Morning
You can protect your underarms with the help of an antiperspirant deo as it has brightening ingredients. It will help keep your underarm skin smooth, fresh, and dry all day long.
Use Potatoes to Lighten Discoloration
Darkness and discoloration are other underarms issues faced by many girls. To get rid of underarms darkness and discoloration, potatoes can be really helpful. Except for being a favorite veggie, potatoes are well-known to help remove dark tans of underarms. Those who are sensitive to bleach and have sensitive skin can use potatoes to get smooth underarms. Cut potatoes into slices and soak them in some water for a few minutes. Rub the slices on your armpits. Since potatoes have bleaching properties, they can help you get fairer underarms.
Properly Wash Your Underarms
If you want bright and fresh underarms, also remember to wash them properly when having a shower. You can even use a gentle cleanser. It will help eliminate the presence of smelly bacteria.
Wear Breathable Clothes
Another excellent way to combat the wetness of your underarms is to wear clothes of fabrics that let moisture evaporate. It includes natural fabrics such as cotton, bamboo, hemp, and linen. For those worried about their pit stains, bright whites and dark-colored clothing can be the ideal option to hide moisture stains.