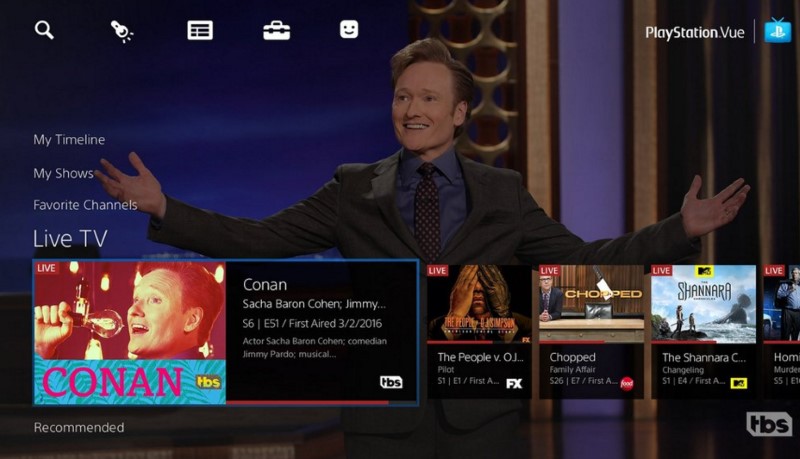 PlayStation Vue, the web-TV service for owners of Sony Corp.'s video-game consoles, has signed up more than 100,000 subscribers since its March 2015 debut, people with knowledge of the matter said, good news for entertainment companies that are losing pay-TV subscribers.
The service has been adding customers at a faster rate since Sony began a nationwide rollout in the US three months ago, said the people, who asked not to be identified discussing private figures. Sony, based in Tokyo, declined to comment on the number. One person put the total near 120,000.
Media companies like Walt Disney Co. and Time Warner Inc. are looking to internet services to counter or slow the decline in traditional pay-TV subscribers for channels like ESPN and TNT. Shrinking audiences have sapped growth at many cable networks, which are the primary contributors to sales and profit at most major media companies.
Sony created Vue to give owners of its PlayStation consoles the option to watch live and on-demand TV without switching away from their gaming systems, an effort to make the device the centerpiece of the living room. Sony sells different programming plans nationally, in part depending on the availability of the major broadcast networks. Where they are provided on Vue, prices range from $40 a month for about 60 channels to $55 for about 100.
The company also recently began offering the service on other devices, including Roku players, Amazon.com Inc. products, and iPhones and iPads.
Media companies are banking on web services to attract younger viewers, those less likely to have cable or satellite TV, and are encouraged by the early results from Sony and Dish Network Corp.'s Sling. Sling has more than 700,000 subscribers, according to one of the people. The company declined to comment.
That means participating media companies are close to reaching 1 million new customers with their web services. While that doesn't make up for the subscribers lost over the past few years, it may quiet some of those more pessimistic about the future of TV.
"They haven't been public with their numbers, so I can't be specific. But what we've been told is that their numbers in terms of sub-adoption has gone up tremendously," Disney Chief Executive Officer Bob Iger said of Vue at an investor conference in May.
AT&T, owner of DirecTV and the largest US pay-TV service, has said it plans to have three web-based services operating later this year. Hulu has said it is working on such a product, while Apple,Amazon.com and YouTube are all exploring the idea as well.
Vue rolled out more slowly than Sling TV. Sony introduced Vue in three markets, adding a few more last summer before making it available in more than 200 markets around the country in March. Live feeds of broadcast networks are only available on Vue in select markets for now