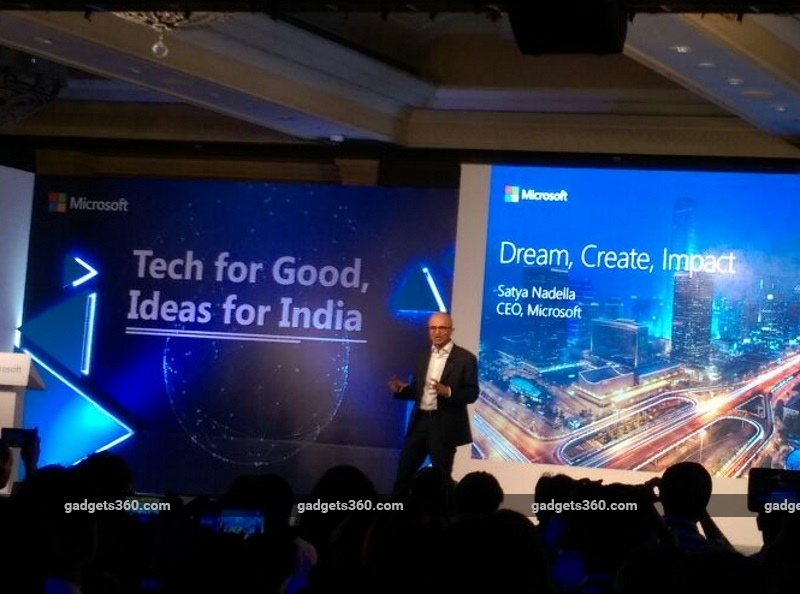 Microsoft India held its 'Tech for Good, Ideas for India' in New Delhi on Monday, with Microsoft CEOSatya Nadella delivering the keynote address, a "conversation with young achievers, students, developers, and entrepreneurs." The event also saw the Minister of State for Finance, Jayant Sinha, in attendance.
The company's focus on India is to empower every citizen and organisation so that they can perform better than their potential and achieve more for themselves and the country, the CEO Nadella said during his keynote address on Monday.
"Every time I come here, I go back energised. Its infectious to see the creativity here. It's important to dream big and create big," Nadella told the media, after a meeting with Microsoft developers, as also entrepreneurs and students.
"I had only two passions that have driven my dreams – poetry and computer science," said, who started his speech quoting Mirza Ghalib, the noted Urdu and Persian poet of the 19th century. "Hazaaron khwaishein aisi, ke har khwaish pe dum nikle. Bohot nikle mere armaan, fir bhi kam nikle," Nadella quoted, which translates "Thousands of aspirations such, that each aspiration takes your breath away… I had many dreams, but they still weren't enough."
Minister of State for Finance Jayant Sinha, who was also present at the event, said "Microsoft is a platform for India's growth."
Looking to Nadella, the Minister added: "The kind of innovation you do in Seattle, New York, London and other places will not work in Jhanda Chowk in Hazaribagh (a constituency represented by Sinha). We need to innovate in India for India."
The Microsoft CEO's visit follows a whirlwind tour of India by Apple CEO Tim Cook, who visited a temple, dined with Bollywood celebrities, and saw an IPL match apart from inaugurating the company's Maps development centre in Hyderabad, announcing a development accelerator in Bengaluru, meeting app developers, and the discussing Apple's India plans with the Prime Minister.